Clopay and Amarr Garage Doors
Back To Our Services
Clopay and Amarr Garage Doors are equally very good options
Selecting a garage door is a lengthy process. First off, you need to determine the style that best complements the overall look of your house. You do not want to have a traditional looking house with a very modern looking garage door at the front. Secondly, you also need to decide which type material you want. If you are looking for a sturdy door that demands less maintenance, then the steel ones are perfect for you. Lastly, you also need to decide on the door design; look out for the right enhancements, like windows, to allow the door to complement your house.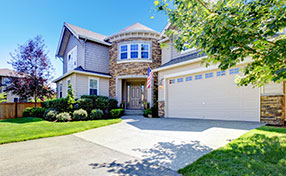 When customers come to us at "Garage Door Repair Glenn Heights" looking for a good garage door, we always recommend two brands. These are the Clopay Garage Doors and Amarr Garage Doors. These two are among the best brands in the market today. We only work with the finest companies to provide our customers the best products.
The advantage of Amarr Doors
Amarr was founded in 1951 and has since been an industry leader in terms of designs, manufacturing, and distribution of garage doors. Its products have been a common choice for residential homes, condominiums, warehouse, commercial buildings, and shopping malls. This is a testament to the quality of their products which are famous for their safety mechanisms, energy efficiency features, as well as excellent overall aesthetic designs.
More than the aesthetic features, safety designs, and energy efficiency, Amarr doors are also designed to withstand harsh wind depending on the pressure in your area. If you are living in areas with very high wind pressure, you can set the door's wind load reinforcement system to enable it to endure the wind's force.
What makes Clopay Doors a good choice
On the other hand, Clopay is also highly considered as the leading residential garage door manufacturer as well as a favored commercial overhead sectional door supplier in North America. They are a company known to have one of the best looking garage doors in the market. These doors are also equipped with energy efficiency features that make them a great choice for anyone.
As evidence of Clopay Garage Door quality, this is the only brand backed up by the Good Housekeeping Seal, and consequently the only brand to offer the Energy Star fiberglass and steel entry doors. These only show that this company is one that is not to be taken lightly.
Both these doors also boast of durability and efficiency of their products. As a service provider in this industry for a long time, we can guarantee that all these claims are well founded. That is why we always include these two when we give our clients a list of brands to choose from.
We are here to provide you detailed information on what to look for when choosing the right garage door. We provide valuable data to help you get to know Clopay and Amarr Garage Doors. More than that, we also provide garage door services for the said companies such as garage door installation, maintenance, parts replacement, as well as garage door repair.